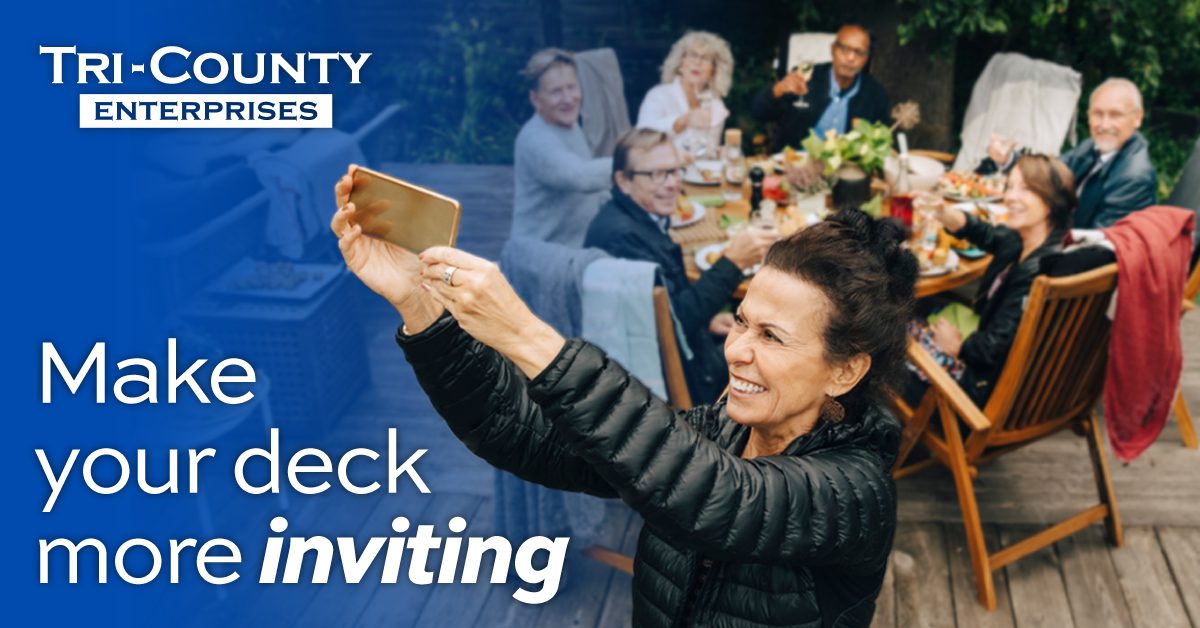 This year, make your deck the place to be. Some additions to your current or new deck can turn it into a true "outdoor living space" where you can host a cocktail party, prepare a meal, catch the game with friends, roast marshmallows with the family, or just find a little solitude for yourself. Your deck is a big investment, so it only makes sense to try and get as much use out of it as possible. Mix and match some of these deck add-ons and create the outdoor escape you've always dreamed about!
GAS FIRE PIT/TABLE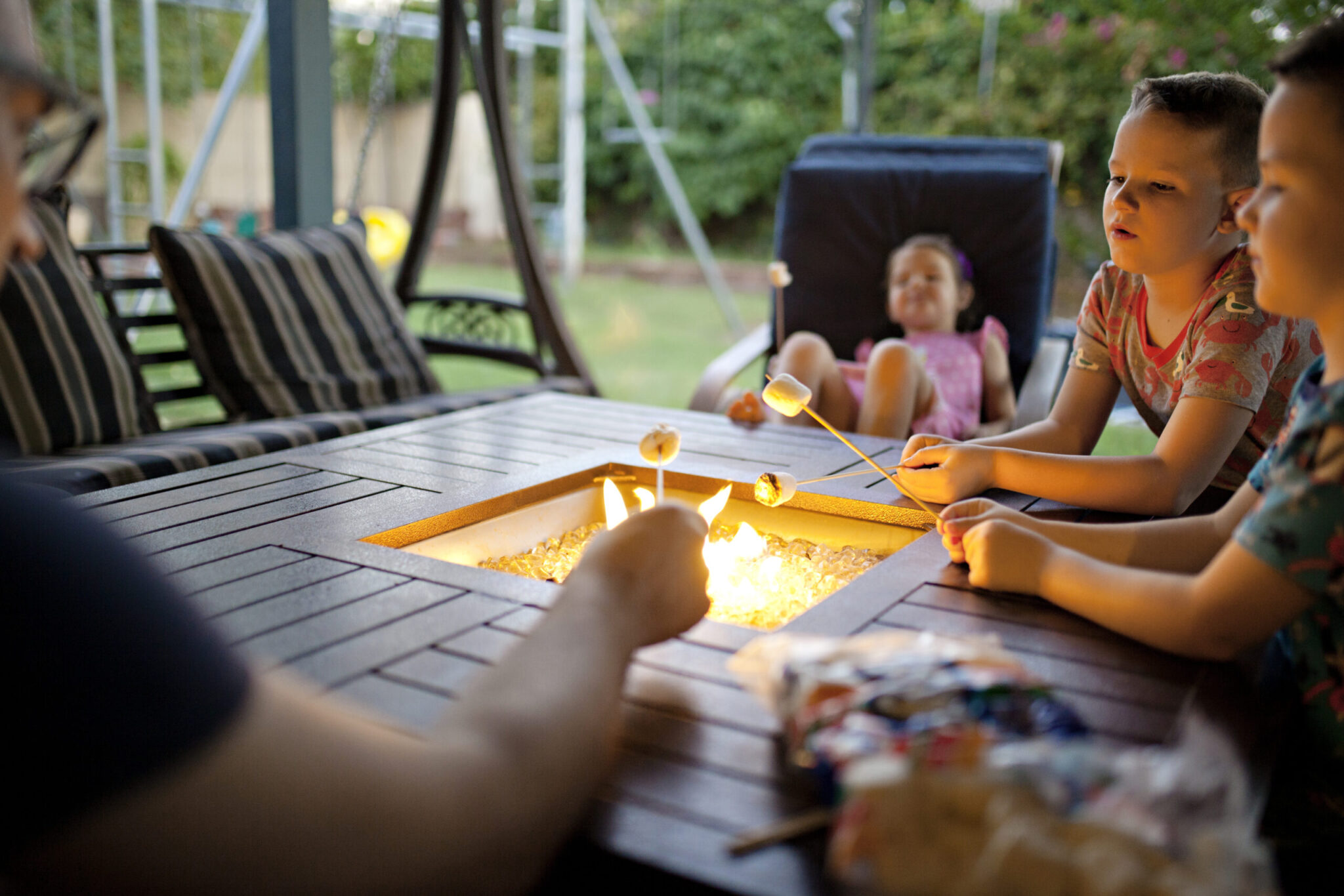 You've likely seen these around, as they've been all the rage for the last five years or so. You wouldn't want to put a wood-burning fire pit on your deck and so close to your home—but gas fire pits don't have sparks flying everywhere or flaming logs that could roll out, making them ideal for decks. Many of the gas fire pits also look like a coffee table centerpiece that can be used as a table when not lit, adding more versatility than a traditional wood-burning fire pit.
ENTERTAINMENT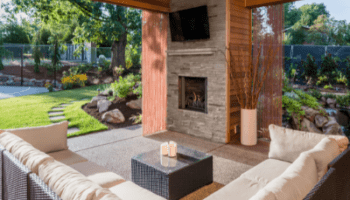 It's easier than ever to turn your deck into your outdoor entertainment HQ, complete with a TV. If you have Wi-Fi that reaches your deck, a streaming device that plugs into your TV, and a power outlet on or near your deck—you have everything you need to watch games with friends or have a family movie night outside. If a TV is an add-on you want to include, let us know during the planning phase and we can figure out how to incorporate that into your deck design.
GREENERY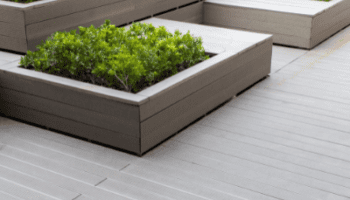 You don't have to get rid of your backyard garden just because you want to build a new deck or expand your current one. You can incorporate your garden into your deck! From hanging plants to large built-in flower boxes, we can create a beautiful green space you'll never want to leave!
OUTDOOR COOKING AREA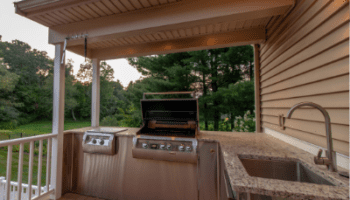 If you're going with a TV and a gas fire pit/table, you might as well add an area where you can cook up some food without having to go inside, right? This could be as simple as building a dedicated space for your grill, so it looks like a part of your deck, or as involved as adding a kitchen with counters, a grill, a griddle, a sink, a mini fridge, and more. Talk to us about what you have in mind during the planning process, and we can help design an outdoor cooking area where your inner chef will thrive.
LIGHTING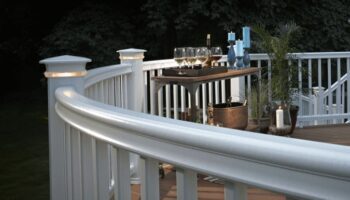 From built-in lighting to string lights, when it comes to illuminating your deck, the possibilities are nearly endless. Some of the most popular built-in lighting options are post cap lights, which sit on top of the railing posts, and stair lights. It's up to you whether you want a light on every post or you may just want them by the stairs or near areas where you could need light, like the hot tub area or the outdoor kitchen. There are also plenty of solar-powered cap lights out there which don't require wiring. Built-in stair lights are often built into the riser (the front part) of each stair. But they can also be built into the bottom of your stair railings or just about anywhere else you can imagine.
You don't have to have built-in lights to make your deck shine after dark. One popular lighting trend is the large string lights with Edison bulbs. Usually, one string is enough to light up a medium-sized deck. For individual lights, a lot of homeowners select solar-powered lights so as not to have to run an extension cord or wiring to each. If you have a pergola or somewhere else to hang lights, there are solar-powered lantern lights that add light and ambiance.
UNDERDECKING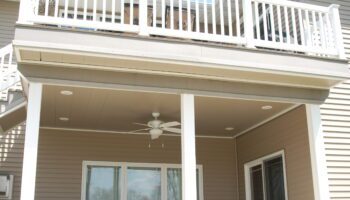 If you have or are planning an elevated deck (usually above a walkout basement entrance), you have the option of doubling your outdoor living space with Comfort Zone underdecking. Comfort Zone captures the water and debris and moves it away from the area under your deck so you can create a second outdoor living space that is clean and dry. You can even add elements like ceiling fans and can lights. Under deck patios also allow homeowners to use their outdoor living space, even when it's hot or raining.
If you're excited about the potential of upgrading your old deck or building a new one, contact us at Tri-County and we can come out and discuss the process and your specific vision—we love dreaming up new ideas! And once that planning is done, you can sit back and relax knowing that we'll take care of materials, building permits, installation, cleanup, and anything else that's needed. Plus, you'll get the same quality of customer service and workmanship that people have come to expect from Tri-County. If you're ready to start thinking about a new or upgraded deck, give Tri-County a call or reach out online and we can help make your dream deck a reality.