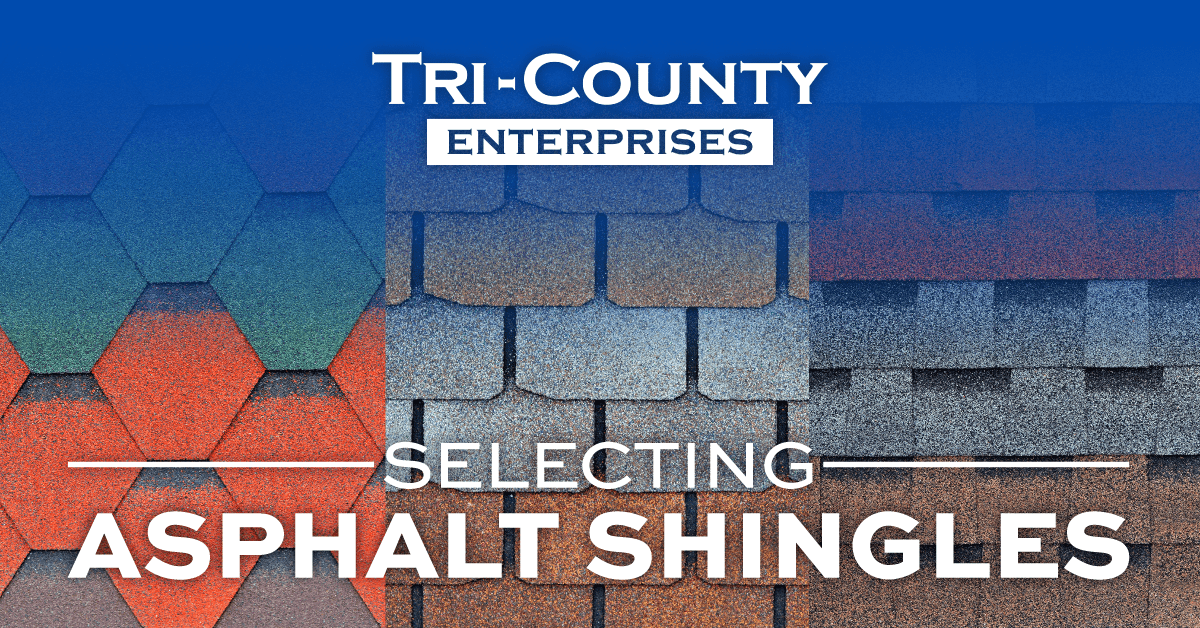 There's a good reason why asphalt shingles are the most popular choice for homeowners in Eastern Iowa—they're cost-effective, versatile and can easily stand up to the Midwest's brutal winters. But how do you go about choosing the right type of asphalt shingle for your roof?
What Are Asphalt Shingles—And Are They Right for Your Home?
Asphalt shingles are made from a fiberglass base that is coated with asphalt and mineral granules to form a protective layer against the elements. Of course, not all asphalt shingles are created equal. The quality and performance of your roof will depend heavily on the brand you choose and how it was installed.
With that said, let's look at the two most popular types of asphalt shingles: 3-tab shingles and architectural shingles. We'll also dive into their unique benefits and features to help you choose the right option for your needs and budget.
3-Tab Shingles
3-tab shingles, also known as strip shingles, are the most basic but cost-effective type of asphalt shingle on the market. They're made of a single layer of asphalt with a uniform, flat shape to give them an appearance similar to slate tiles.
3-tab shingles are a great choice for homeowners on a budget and a popular choice among contractors, given their durability and ease of installation. Some homeowners love the symmetrical, clean look of this shingle type. However, their flat design can be a drawback since it makes them more susceptible to wind damage.
Depending on the manufacturer, they may also have a shorter lifespan compared to other types of asphalt shingles. Additionally, 3-tab shingles may not provide the same level of insulation and energy efficiency as other types—a major concern in areas like the Midwest that see extreme weather year-round.
3-Tab Shingles—The Verdict
The Good: An economical choice that can be very durable when installed by a trained, professional crew.
The Bad: Won't hold up to extreme winds and weather as well as architectural-style shingles.
Our Final Take: 3-tab shingles are a worthwhile alternative to more expensive roofing types and are suitable for the vast majority of homes.
Architectural Shingles
Architectural shingles, also known as laminated or dimensional shingles, are a step up from 3-tab shingles in terms of aesthetics and performance. They're made by fusing two or more layers of asphalt together, giving them a thicker, more textured appearance to rival the look of even cedar shake shingles.
As a bonus, many offer improved fire ratings compared to shake roofs—and some homeowners can save on their home insurance by replacing their traditional wood shingles with a high-quality laminated asphalt roof.
Let's talk durability. Architectural shingles are known for their enhanced wind resistance and overall great performance. Post-derecho, we've seen an increased demand for this roofing type—easily our most popular option. They also offer better insulation and energy efficiency compared to 3-tab shingles.
Now for the downsides. Architectural shingles are more expensive than 3-tab shingles and may be more difficult to install due to their increased weight and size. Thankfully, an experienced crew like Tri-County will have no problem with this type of roof and can install it in a single day, depending on the size of the home.
Architectural Shingles—The Verdict
The Good: Architectural shingles add charm to your home's exterior while providing superior protection from hail, winds and winter weather.
The Bad: They are more expensive than 3-tab shingles and require an experienced contractor to install them correctly.
Our Takeaway: If the budget allows for it, architectural shingles are our recommended choice for Iowa homeowners—you just can't beat their look or performance.
Our Favorite Architectural Shingles
Malarky Vista AR
Malarkey Vista AR shingles are specifically designed to withstand harsh weather conditions, making them a great choice for Iowans. They're made from a durable, impact-resistant material that can withstand heavy winds and hail and are also resistant to algae growth—a common roofing issue in Iowa's humid climate.
In terms of efficiency, Vista AR shingles are Energy Star certified, which means they can help to keep homes cooler in the summer and warmer in the winter, leading to lower energy bills. Overall, these shingles are a great option for homeowners who want a durable, long-lasting roof.
Malarky Legend Scotchgard
When it comes to protecting your home, it's hard to beat the performance of Malarkey Legend Scotchgard. In the latest Hail Impact Study by the Insurance Institute for Business & Home Safety (IBHS), which tested the performance of various roofing materials in simulated hailstorms, Malarkey Legend Scotchgard shingles were one of only four products to score a "Good" or "Excellent" in every performance category. They have also received IBHS's highest rating for impact (Class 4).
Like Malarky Vista AR shingles, Legend Scotchgard shingles are available in nine attractive color options to complement or match your home's exterior.
GAF Timberline HDZ
GAF Timberline HDZ shingles are another popular choice for Iowa homeowners because they combine durability with aesthetic appeal. In addition to being rugged and hail-resistant, homeowners like that they have a dimensional, realistic look. You get the beauty of a shake roof—but without all the maintenance and upkeep that real wood demands. As a bonus, they're available in more than 20 different color combinations.
Your Roof, Your Way
Ultimately, the right choice of shingles will depend on your budget and exterior aesthetics. Before you make your decision, keep doing your research and consult with a trusted contractor.
You can also visit the Tri-County showroom to see and feel samples of our asphalt roofing options to get a better idea of what will work best with your home. Our product experts can make color and material recommendations, no matter your budget. We can even help you file an insurance claim in the event you need to replace a roof that was damaged in a storm.