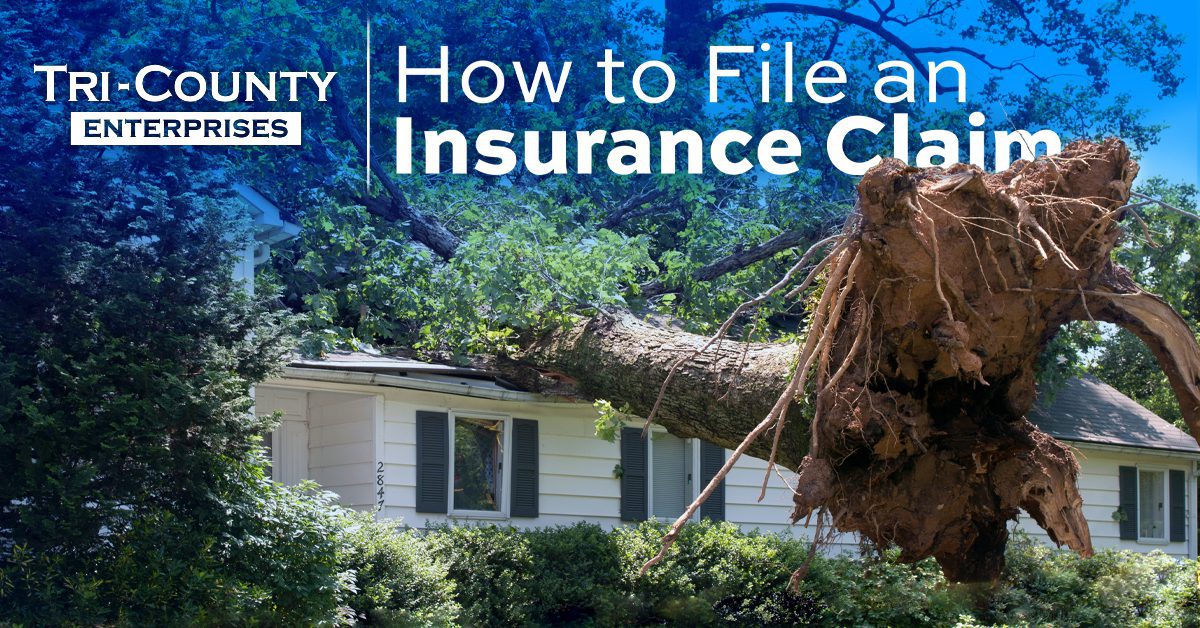 Thunderstorms in the early fall and late spring bring the risk of hail to east central Iowa, posing a major threat to homeowners. Whether it's the size of a pea or as big as a golf ball, hail of any size can cause significant damage to your roof, siding or windows that calls for substantial repairs—if not full replacements.
Exterior renovation projects can be sizable investments, but thankfully homeowner's insurance will typically cover a majority (if not all) of the costs to replace these items, depending on your policy.
If you're a first-time homeowner or if you've never filed an insurance claim before, it might seem like a daunting process. But if you take it step-by-step, it gets a lot easier!
We're here to walk you through what you need to know to file an insurance claim if your home's exterior is damaged by hail, wind or other natural elements.
Step 1: Document the Damage
First things first, document the damage as best as you can as soon as you can. This means taking photos and videos, writing down a timeline of events, and keeping a list of items that need repairs.
Step 2: Check Your Policy
Read (and re-read) your insurance policy to understand what's covered. While it's likely your insurance will cover damage from hailstorms, lightning and fires, not all natural disasters (like floods) are covered.
Two more factors you'll need to consider are your limit and your deductible. Your limit is the absolute maximum dollar amount your policy will cover, while the deductible represents what you would need to pay out of your own pocket before insurance reimburses you.
Let's say your limit is $200,000 and your deductible is $1,000. Now let's say a hailstorm causes $10,000 in damages to your roof and siding. Luckily, it's unlikely you will exceed your limit. However, you will be responsible for paying at least $1,000 towards repairs before your insurance kicks in.
Remember, while most policies follow a similar framework, each one will be different depending on the age and condition of your home, the area you live, and your home's overall value. If you're confused by your policy or curious about what it covers, reach out to your insurance agent and ask questions!
Step 3: Call Your Insurance Agent to Submit Your Claim
Once you have documented the damage, it's time to contact your insurance company. You can either call your agent directly or make the claim online, if that's an option your insurance company offers.
While talking to your agent, don't hold back. Give a detailed account of what happened and ask questions if they mention a term you're not familiar with—remember, it's a part of their job to help you through the process!
At this point, you might not have a good picture of the extent of the damage to your home and that's OK. While you're waiting for your insurance company to send out an adjuster to make an assessment, you can start researching local contractors and make a few calls to see who's available to take on work.
Pro Tip: Don't wait to reach out! While many insurance companies will give you up to a year to file a claim, it's best to start the process as early as possible to ensure maximum coverage. Remember, damage to your roof could cause further problems down the line like water damage to your walls or personal belongings. Waiting too long to make repairs can cause secondary issues your insurance may or may not cover!
Step 4: Select a Qualified Home Exteriors Contractor & Get an Inspection
An adjuster's appraisal will give your insurance company an idea of the extent of the damage, but you'll still need an estimate from a professional contractor to fully understand the real cost of repairs. At this stage in the process, it's time to select the home repair contractor you want to work with. Once selected, they'll conduct their own inspection.
At Tri-County, we offer free on-site estimates that take into account your budget, goals and vision before we make any recommendations. While inspecting your home, we'll take detailed measurements, thoughtfully consider what materials will work best, and plan ahead for potential challenges that may arise during construction. You can then share this information with your insurance company.
Pro Tip: Look out for scammers and storm chasers! Unfortunately, when storms cause significant damage to a whole town or neighborhood, it's not uncommon for scammers to go door-to-door offering free roofing inspections. Sometimes, they will purposely cause damage to your home during this "inspection" to justify more costly repairs. These companies frequently go from town-to-town and state-to-state, leaving behind a trail of shoddy work—and unhappy customers.
It's important that before you work with any contractor, you do a thorough online search to verify their credibility. You'll want to work with a company that has an established local presence, is licensed in Iowa, and has received multiple reviews from happy customers and an A+ rating from the Better Business Bureau (BBB).
Step 5: Keep the Conversation Going
Your insurance company will get back to you after their inspection to let you know what's covered and what you'll be responsible for—but that's not necessarily the end of the story. If you think they've overlooked damage or aren't compensating you fairly, speak up! Again, this is where having good documentation comes in handy.
It's common for contractors to uncover additional damage when they're putting together their own estimates, or even after work has already begun. This doesn't mean your insurance company is trying to shortchange you—if your appraisal was done virtually (a growing practice since the pandemic), they could have easily missed a detail that your contractor would only notice moving around on the job site.
If additional damage is uncovered, don't sweat it! A responsive and experienced contractor will help you create a supplemental estimate to submit to insurance that will help cover extra expenses.
Pro Tip: Keep a cool head. A heated argument with an insurance agent won't help your cause. If you can't seem to agree on the assessment, document your conversations and keep a detailed record of communication. In a worst-case-scenario, you may be able to file a complaint with the Iowa Insurance Division and get reimbursed.
We Make the Process Easy—From Start to Finish
No matter what exteriors issue you're dealing with, Tri-County Enterprises can help you through the process of repairing or replacing your roof, siding, gutters or windows. Our project managers help you through every step of the process—from inspection to installation and even helping you file your insurance claim correctly.
Need an estimate? Reach out to us at (319) 364-2220. Or start the process online.