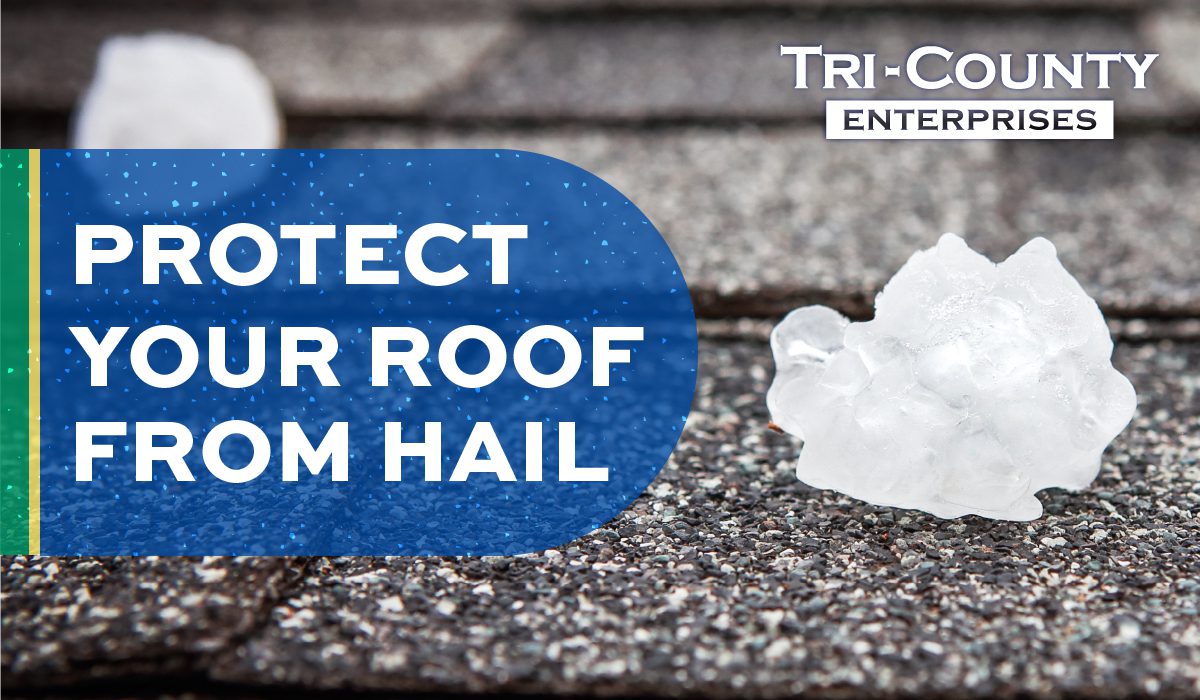 A roof with a Class 4 Impact Rating is the gold standard for homes that see a lot of severe weather.
In Iowa, the weather can change in the blink of an eye.
One minute it's sunny. Then the next thing you know, the clouds roll in, the sirens go off, and you hear the clunk, clunk, clunk of hail hitting your roof.
Chances are your home has seen its fair share of hailstorms. According to Ready Iowa, our state experiences nearly 50 tornados and hundreds of severe storms every year — both of which can produce hail larger than 1" in diameter.
Read on to learn how to identify the signs of hail damage, what to do if your roof is damaged by hail, and how to prevent hail damage in the future.
How to Identify Hail Damage
Hailstorms pose an obvious threat to your personal safety — and if you've ever left your car parked outside during a bad one, you know that even hard surfaces aren't immune to its impact.
So if hail can dent your car…what does it do to your roof?
Bruised or Dented Shingles – You may notice round, black spots, or "bruising," on the surface of your shingles. This may or may not be accompanied by dents or divots. If you notice any flaws on the outside of your shingles, act sooner than later — a minor issue now can balloon into a much bigger crisis down the road.
Split or Cracked Shingles – Split or cracked shingles allow water to travel through the cracks, making water damage all but inevitable. Unfortunately, you can't always tell if a shingle has been cracked just by looking at the surface — you need to turn it over and look on the backside. This is why it's always a good idea to have your roof inspected after a hailstorm. A professional will know what to look for!
Missing Shingles – A powerful storm can blow shingles clear off your roof. If you find any in your yard or notice gaps in your roof where shingles should be, that's a sure sign to call your roofer.
Dented Flashing & Vents – Dents and dings in your flashing — the metal plates that direct water away from vents, chimneys and dormers — aren't just a cosmetic issue. Denting creates gaps that let water into critical areas. It can also create just enough space to let in pests.
What to Do if Your Roof Is Damaged by Hail
First things first, contact your roofer to schedule an inspection as soon as possible. At Tri-County, we'll take pictures of what we find to help you document the damage.
If your roof has sustained more than just cosmetic damage, your next step will be to call your insurance company — your policy may very well cover a full roof replacement. Many insurance companies put a limit on how long a homeowner can file a claim after hail damage occurs, so don't procrastinate! Read our blog on filing an insurance claim for step-by-step instructions.
(P.S. if you work with Tri-County, we'll walk you through the process of filing a claim and work with your insurance to make it easier for you.)
If your roof has sustained hail damage, you will likely be looking at a full replacement vs. repairs. You'll have a lot to consider when deciding on a new roof — from the brand to the color and type of shingle. But there's one feature you won't want to overlook — the impact rating.
What Is an Impact Rating?
Impact ratings are used to measure your roof's ability to stand up to hail.
Underwriter Laboratories (UL) and the Institute for Business & Home Safety (IBHS) developed a standardized test for measuring a shingle's performance during a simulated hailstorm. This involves repeatedly dropping steel balls of various sizes onto a shingle from a distance and inspecting them for damage. The shingles are then given an impact rating between Class 1 and Class 4, with Class 4 indicating the most resilient, high-performing shingles.
A Class 3 shingle can withstand the impact of hail smaller than 1 ¾" in diameter, while a Class 4 shingle can withstand the impact of hail with a 2" diameter. For reference, hail that is 2" in diameter is between the size of a golf ball and a tennis ball — making a Class 4 rating all the more impressive!
Never Again: Defend Against Hail Damage with an Impact-Resistant Roof
Hailstorms in Iowa are inevitable — but roof damage doesn't have to be. An asphalt roof with an Impact rating of Class 4 will offer the best protection for your home and added peace of mind.
Roofing Systems we install with a Class 4 Impact Rating
Malarkey Vista®
Malarky Legacy™
GAF Timberline® ArmorShield™ II
CertainTeed Landmark® IR
CertainTeed Highland Slate® IR
CertainTeed Northgate® IR
CertainTeed XT® 30 IR
Ready for a serious roof upgrade? Call Tri-County the moment a storm damages your roof and we'll send someone out to inspect the damage and get you an estimate ASAP.