Today's decks might not look like the ones you saw growing up—but with the technological advancements over the last few decades, decks offer a much wider variety of material options and can last longer with less maintenance. We'll walk you through some of your options so when the time comes to upgrade your old deck or build a new one, you're ready.
Decking Boards:
When most people think of a deck, the floor is the first image that comes to mind. This is made up of decking boards that come in a range of materials.
Pressure Treated Wood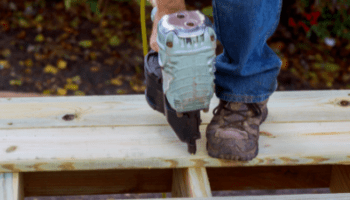 Almost all decks that were built three or four decades ago were made out of this material. When homeowners choose wood today, it's often to save money upfront. Be careful though—wood decks require a fair amount of maintenance and upkeep, otherwise they can start to rot and fall apart faster than other materials. With wood, you'll want to not only think about the upfront cost but also the cost of maintenance, stain and sealant over the course of the deck's lifetime.
PVC/Polymer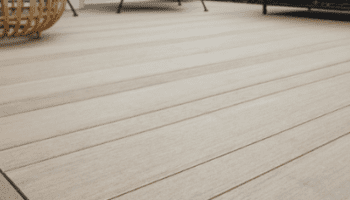 This type of decking is made from polyvinyl chloride, a type of plastic vinyl. Most PVC decking is made from at least some recycled plastic and AZEK's PVC decking (which we use a lot of) is made from over 50% recycled materials. Since PVC doesn't include any organic material, it won't rot, expand or contract, or require staining and sealing. PVC decking can cost more than wood upfront, but with such little maintenance and much more durability, the extra upfront costs can even out over time.
Composite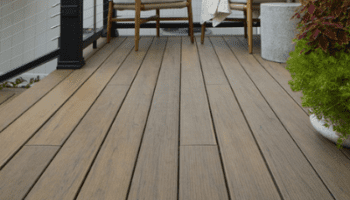 Composite decking is similar to PVC in that it uses recycled plastic—but composite also uses leftover wood from sawmills that would otherwise end up in a landfill. Composite decking is more expensive than PVC but requires very little maintenance and is much more durable than wood. The main difference between composite and PVC, other than cost, is mostly aesthetic.
Bamboo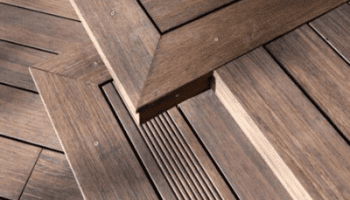 This is one of the newer and more unique decking materials on the market. Bamboo can be considered a middle ground between natural wood and synthetic materials. Bamboo can look more like wood than either PVC or composite but is more durable than just about every type of natural wood. It is still a natural material though, so it will require some maintenance and usually doesn't hold up quite as long as PVC or composite. For some, the sustainability of bamboo is also a factor. When trees are harvested for wood decking, it takes decades for new trees to replace them. But bamboo can be completely regrown in as little as five years.
Railings
While you might be more focused on the type of material you want for your deck boards, the railings tend to be the most visually prominent element of your deck.
Wood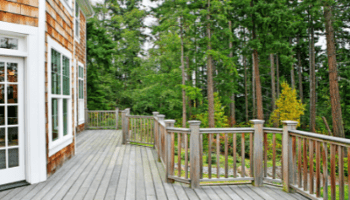 Traditionally, deck railings were made out of the same wood that was used for the decking boards. Wood railings tend to have a wider profile and don't stand out as much since the railings look exactly like the rest of the deck. Wood railings will require the same maintenance as a wood deck, but the materials will cost less upfront than other types of railings. One reason some people stay away from wood for railings is because of the splinters and other things that attach themselves to organic materials.
PVC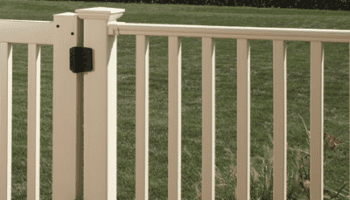 PVC railings can come in a variety of colors and tend to have a larger profile similar to wood railings. Unlike wood, PVC railings won't rot and will last much longer. PVC railings also tend to have a cleaner look than wood—especially in white. Because of the variety of color options, PVC railings are useful for complementing your home's color palette.
Aluminum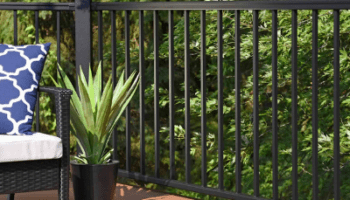 This is another type of railing that comes in a variety of colors and won't rot or rust. Aluminum is one of the most durable railing materials and like PVC or composite, it will never need to be painted or sealed. Aluminum railings are great for homeowners looking for a slim, chic look that opens your deck to its surroundings. Aluminum railings also allow for a variety of infill options—from standard aluminum balusters to wire to glass.
You don't have to make all of these material and design decisions on your own—and you don't need to spend endless hours online doing research. Just contact Tri-County and we can come out and discuss the process and your specific vision—we love dreaming up new ideas!
Once planning is done, you can sit back and relax knowing that we'll take care of materials, building permits, installation, clean up and anything else that's needed. Plus, you'll get the same quality of customer service and workmanship that people have come to expect from Tri-County.
If you're ready to start thinking about a new or upgraded deck, give Tri-County a call or reach out online!