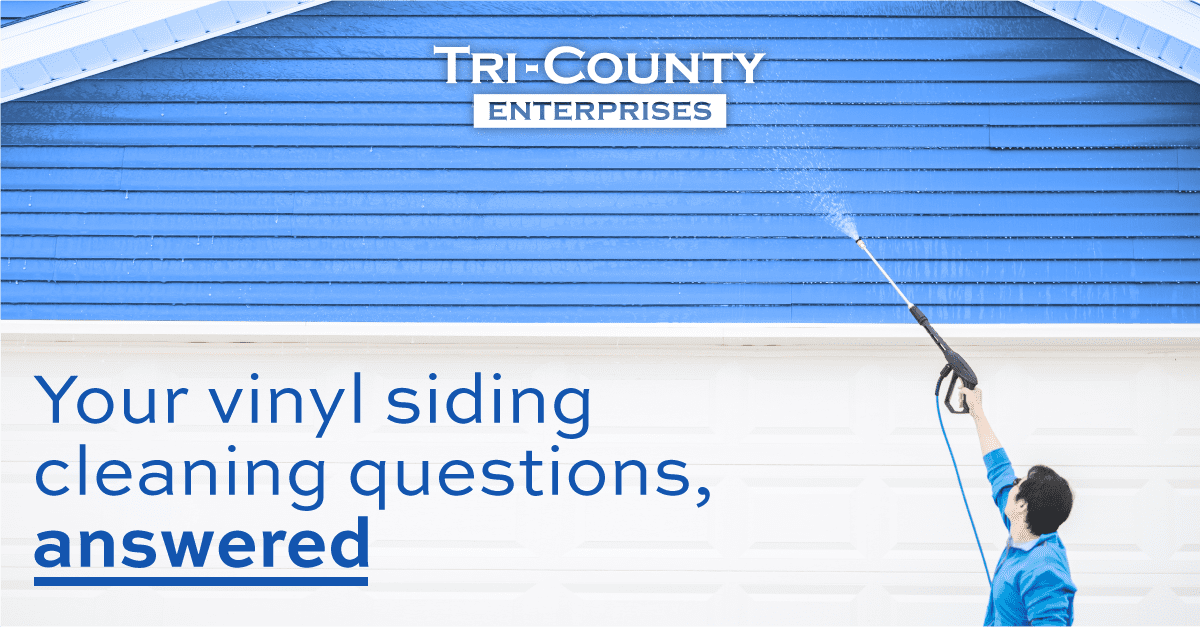 How do I wash vinyl siding? How often should I clean it? Is power-washing safe?
You've got the questions, we've got the answers!
While your maintenance schedule will depend on the type of siding you have (don't ignore those manufacturer guidelines!), in general, there are a few basic rules you can follow that will keep your home's exterior sparkling clean and looking great for years.
1. How often should I clean vinyl siding?
Even if your siding looks as clean as it did the day it was installed, it's best to give it a good wash every couple of years to prevent build-up and keep insects and spiders from building nests or webs in the nooks and crannies.
2. How do I clean vinyl siding?
Before you dive in, consult your manufacturer's guidelines, as each will have different recommendations.
Generally, you can use a soft cloth or brush to lather your siding with soap, then use a hose to rinse it off. Start from the bottom and work your way towards the top to prevent streaking, rinsing as you go.
3. What products should I use to clean vinyl siding? 
In most cases, all you need (besides water) is a mild, non-abrasive soap. You can buy specialty cleaners made exclusively for siding, but a simple dish soap works wonders—and more likely than not, you already have some in your kitchen.
If you need something stronger to tackle mildew, a three-to-one solution of water and vinegar can do the trick. Again, you can pick up a specialty cleaning product or reach for an all-purpose cleaner—just be sure it doesn't contain bleach, acetone or organic solvents. Similarly, avoid using steel wool to scrub away stuck-on gunk—reach for a soft-bristle brush instead.
4. Can I power wash vinyl siding?
Pressure washing makes it quick and easy to clean your vinyl siding, but not all brands recommend it. Again, it's best to check your siding manufacturer's website to learn if it's safe for the product on your home.
If pressure washing is an option, just be sure to point the nozzle straight and avoid spraying upwards, as this can trap moisture underneath the siding. Take care when washing around windows and doors to prevent breakage and keep water out of your home.
5. When is the best time of year to clean my vinyl siding?
Any time when the weather is above freezing is suitable for cleaning your siding. In Iowa and across the Midwest, your window is usually between late March and early November.
Want more tips to keep your home exterior in great shape? Sign up for our quarterly newsletter to get helpful advice straight to your inbox, plus learn about seasonal deals and promotions.