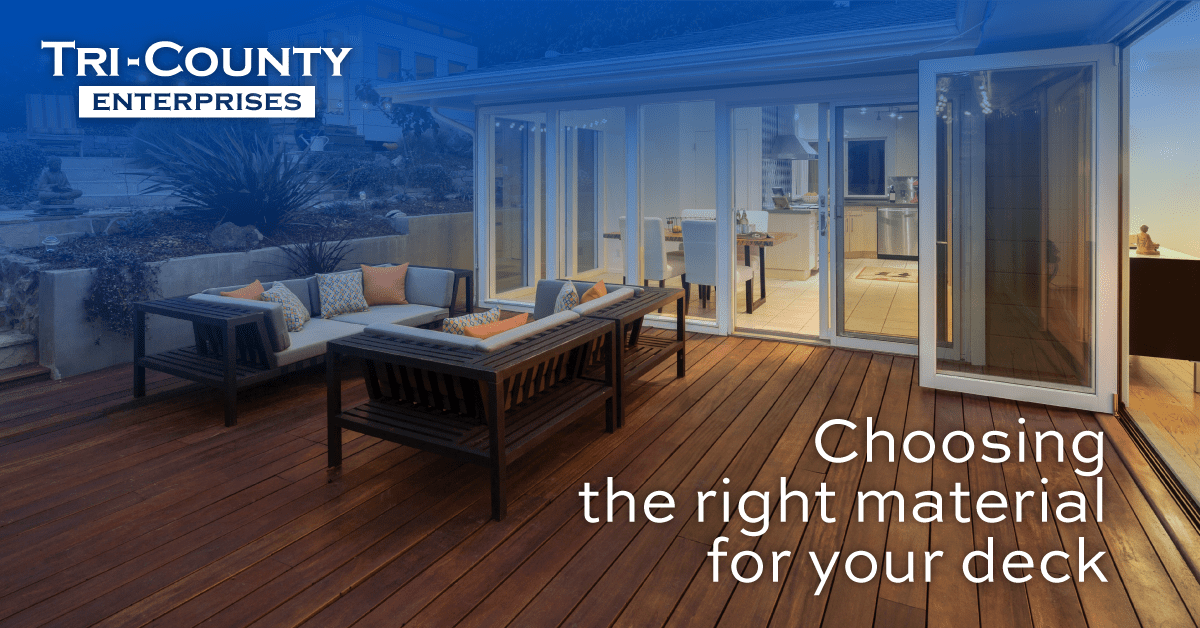 Your deck is your home's unofficial summer HQ. Whether you're grilling out, working on a tan or just lounging with a cold beer in hand—some of the best memories are made outside doing nothing but enjoying the good weather and good company.
When it comes to building a new deck, you want to be able to maximize the time you spend enjoying it while minimizing the time spent maintaining it. After all, most of us would rather kick back with friends than spend hours sanding and re-staining deck boards—it's a tedious process that gets old fast.
Thankfully, we live in the 21st century and technology is on our side. That means there are plenty of options for building a long-lasting, gorgeous deck that's much less fussy than the ones we grew up with.
Low-Maintenance & No-Maintenance Decking Options
If you're looking for a high-quality, ultra-durable deck, first you need to think about materials. You'll want to consider. . .
Maintenance: How often (if ever) will it need to be re-stained or re-sealed?
The Look: Do you prefer the look and feel of real wood? Or do you like the modern touch of composite materials?
Cost: How much do you want to spend on materials and installation? Consider the costs of ongoing maintenance as well.
Long-term Durability: How many years can you expect to get out of your deck? Will it stand up to Iowa's tough winter weather and harsh summer sun?
When choosing between natural and man-made materials, keep in mind that neither is right or wrong—it all comes down to what's right for your home and your family.
Let's take a look at some of your options:
Pressure-Treated Wood
A classic option. When it comes to wood decking, we recommend opting for boards that have been pressure treated to boost rot resistance and prevent bugs from wreaking havoc. Great options include yellow pine or douglas fir. You can also opt for a softer wood like cedar, which is naturally resistant to moisture. Just keep in mind that this is often a more expensive option.
Maintenance: All wood decks are susceptible to damage from the elements and will need regular resealing and maintenance to keep them in great shape. If your deck gets a lot of heavy traffic (think dogs running around or heavy furniture that gets dragged), you will most likely need to replace a few boards here or there to get rid of dings and deep scratches. On the plus side, it's easy to repair or restyle this type of deck when you need to.
The Look: Wood decks are incredibly versatile and you'll have infinite options for customization. Boards vary in color, grain and texture and you'll have an unlimited choice of stains, giving you maximum control over the look and feel of your deck.
Cost: Depending on the type of wood you choose, this is usually the most cost-friendly decking option. Just keep in mind that you'll have ongoing maintenance costs to consider, which can add up across the lifespan of your deck.
Long-term Durability: A pressure-treated wood deck can last up to 10 years—15 if it's been meticulously cared for. You can add an extra 5 years to that timeline if you opt for a high-quality cedar. However, without regular re-staining and maintenance, boards can warp and need replacing.
Composite Decking
Composite decking combines the durability of PVC, a man-made material, with the natural look and feel of reclaimed wood. At Tri-County, we're big fans of TrexÒ Decking, which has become the world's top decking brand for good reasons (see below).
Maintenance: Trex composite decking is fade-, stain-, scratch- and mold-resistant, making it virtually maintenance free. When it's time to clean, a little soap and water is all you need to make it look brand new again.
The Look: Composite decking comes in a variety of options that have a realistic look and retain their vivid color without ever fading. While your choices are more limited than if you were staining the deck yourself, once your composite deck is installed, you'll never have to worry about re-staining it.
Cost: Upfront, composite decks from Trex and other premium manufacturers are more expensive than your typical wood deck. But since there's virtually no maintenance, this can be a more economical option in the long run. Plus, composite decks are attractive to homebuyers, which can help increase the value of your home.
Long-term Durability: If you want a deck that will look and function great in 10, 20 or 30 years, composite is the way to go.
Bamboo Decking
Bamboo is a natural-looking, long-lasting and environmentally sustainable option for your deck. It's also growing in popularity and appealing to homebuyers. We love MOSOÒ Bamboo Decking at Tri-County, which ages gracefully over time.
Maintenance: Bamboo is more resistant to moisture than hardwood, making it a great choice for Midwesterners who deal with a lot of snow. As a result, the boards are less likely to warp over time, saving you time and money on replacements. There is also no need for periodic maintenance—a huge plus!
The Look: Your options are limited in terms of color, but you'll have room to play around with how the boards are laid out and you can get creative with different patterns—including herringbone or chevron.
Cost: Like composite decking, bamboo is more expensive than your typical hardwood—though it typically costs less than more exotic options like ipe or teak. When factoring in that there are virtually no maintenance costs, bamboo can be a surprisingly affordable option.
Long-term Durability: Bamboo decking is a terrific option if you're thinking about the long haul. MOSO Bamboo X-treme products even come with a 25-year guarantee.
Which Decking Material Is Right for You?
The experts at Tri-County Enterprises can help you discover and narrow down your options to you find the perfect fit for your home, family and lifestyle. From helping you pick the right finishing touches to white-glove installation—we make the process easy from start-to-finish.
Our estimates are always 100% free.