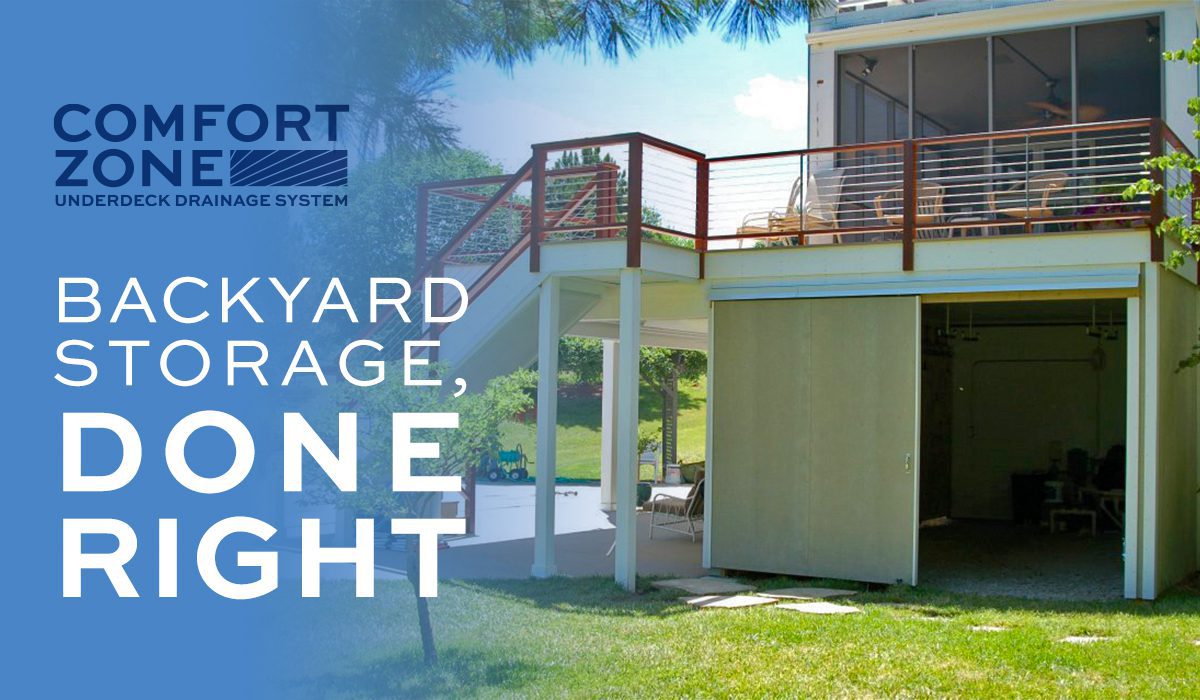 Get the most from your backyard storage space with beautiful and cozy solutions from Comfort Zone Underdecking.
It happens to the best of us.
Summer arrives, pool season begins, and pretty soon, you're sitting on a small collection of inflatable toys, goggles and floaties. Then, once Labor Day rolls around, you pack everything up, label your box and take it to your storage space where you discover (drumroll…) an identical box filled with last year's swimming gear. Oops!
While it's easy to blame these blunders on good old-fashioned forgetfulness, one of the real reasons storage spaces get so out of hand is because they're uncomfortable and unwelcoming places we avoid at all costs — no one wants to dig through spider webs or stand in a puddle of water just to find a pool toy.
When Backyard Storage Goes Wrong
It doesn't matter how organized you are — if your storage area is dark, dank or scary, you're not going to use your space as much as you could.
If it's leaking water, you're not going to protect your belongings.
And if it's an eyesore in an otherwise perfectly manicured yard, it will be impossible to ignore.
But you need somewhere to store your bikes, gardening gear and patio furniture in the off-season. And chances are you're not willing to turn your formal dining room into a makeshift closet any time soon. So why not transform an unused outdoor space instead?
For many homeowners, the space under their deck provides the perfect spot for creating a beautiful, weather-proof storage area with Comfort Zone Underdecking.
Comfort Zone Storage Solutions — Your Options
Comfort Zone Underdecking turns unused, unloved spaces into great-looking, functional storage and living areas that are easy to clean and maintain. By redirecting rainwater and melting snow through a gutter system, the space below your deck is kept completely dry.
The patented Comfort Zone system is 100% customizable to meet your needs and match your home's exterior.
Inconspicuous Storage
Your Comfort Zone can be designed to blend into your home's exterior. Choose from a number of options for closing off your storage space — from classic French doors with decorative hardware to trendy sliding barn doors for 360° curb appeal.
French doors closed with a simple, but sleek latch make it easy for the homeowners to get in and out of their storage space. The perfect height for storing the family's bikes and other recreational gear, this storage area frees up valuable space in the garage, making it easier to bring in groceries and carry things to the car.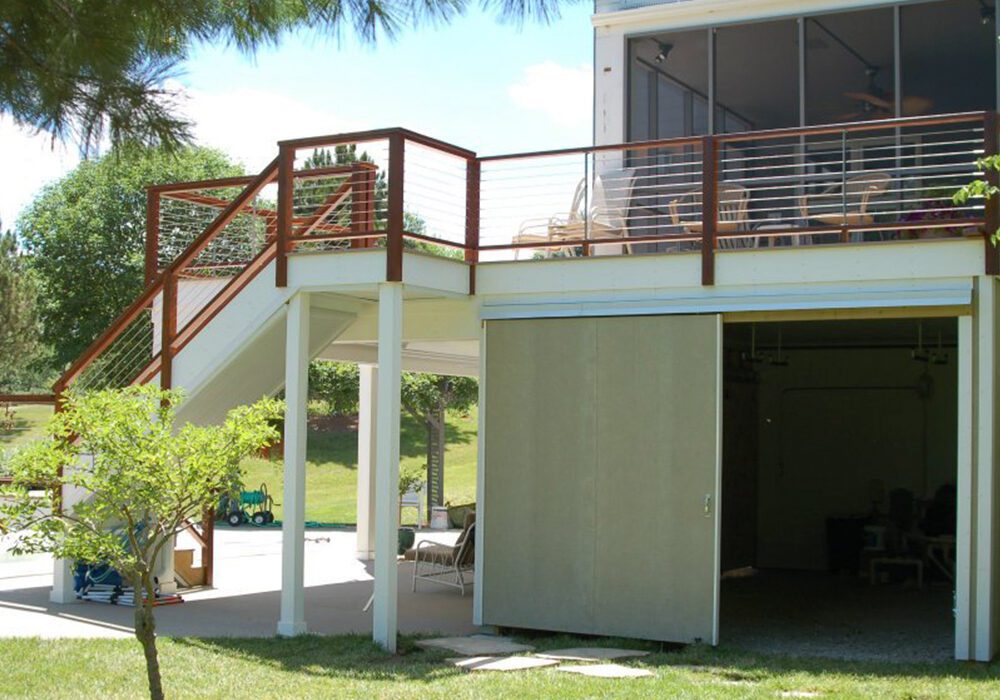 Tri-County transformed this outdoor storage area into a clean-looking, walk-in Comfort Zone finished with chic, minimalist details. A large sliding door compliments the home's contemporary finishes, drawing attention to the gorgeous statement railing surrounding the deck.
Since it's protected from the elements, rain or snow that lands on the deck above is rerouted through a series of gutters, keeping the area below dry. This allowed the homeowners to install storage hooks on the ceiling, maximizing the usable space inside.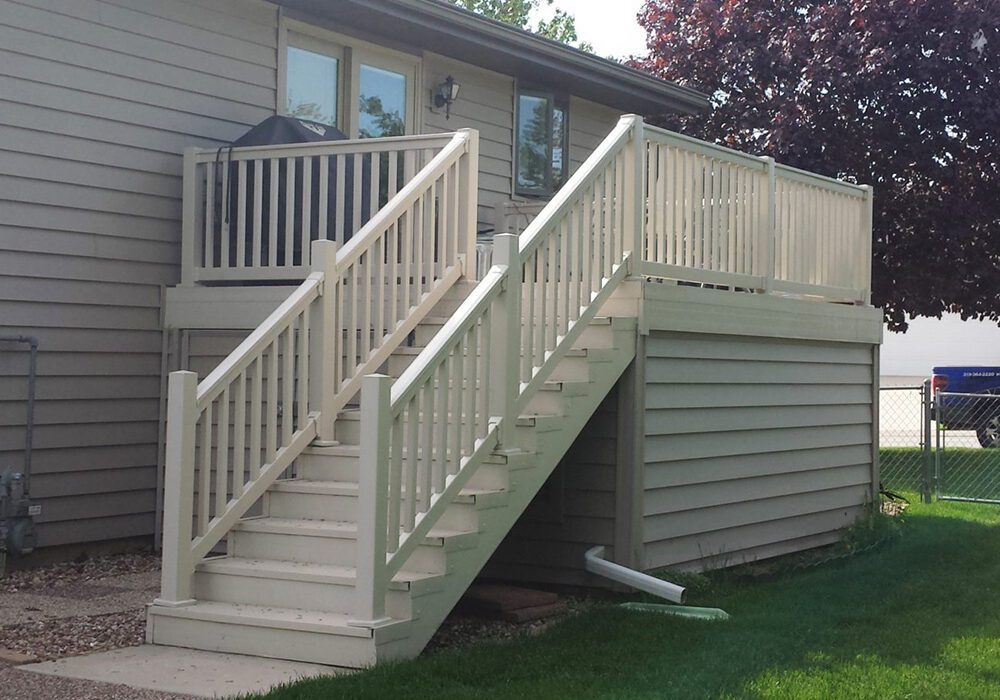 This underdeck storage space takes inconspicuous to the next level. Since the Comfort Zone is connected to the house, the homeowners don't need to drag heavy patio furniture through the yard to a storage shed every winter — a major convenience.
Some homeowners find that with a Comfort Zone attached to their house, there's no longer any need for an additional storage shed, freeing up extra space in the backyard for kids and pets to run around.
Four Seasons Living
Instead of bringing your outdoor furniture into storage for the winter, create a four-season porch with all the benefits of indoor living — including decorative lights, ceiling fans and a TV for entertainment. You can also go big with an outdoor kitchen that lets you grill even when the weather isn't cooperating.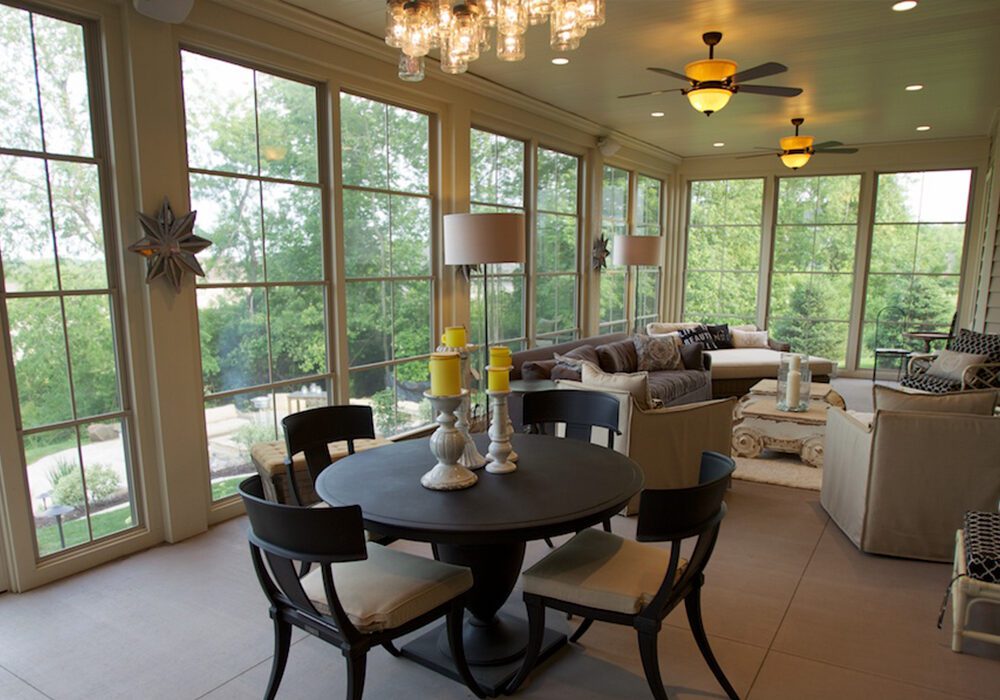 Check out this ultimate four-season room complete with fans and chandelier lighting! Head-to-toe windows let the homeowners enjoy plenty of natural light while offering protection from the sun's direct rays.
Totally enclosed, weather-proof spaces like this allow the homeowners to upgrade their patio furniture without worrying about wear or tear. As a plus, there's no need to put anything into storage during the snowy season or bring in cushions when it rains.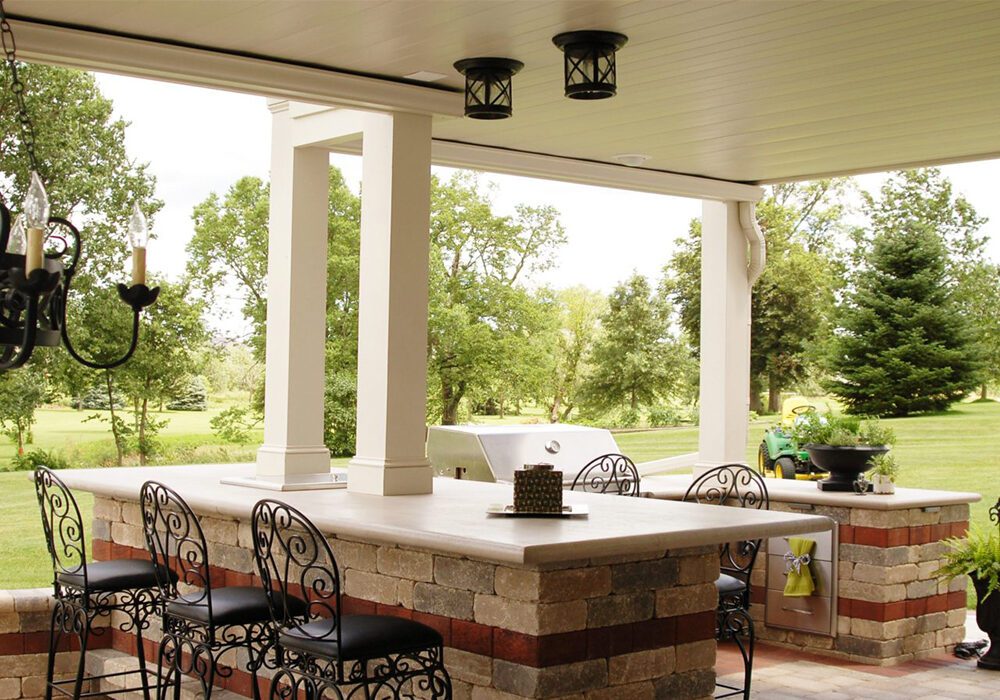 If you love to grill and entertain year-round, you can create a covered outdoor kitchen or wet bar with a finished ceiling and all the amenities to rival your actual kitchen.
Built-in cabinets and drawers make it easy to store grilling accessories, gadgets like Bluetooth speakers and gardening tools. Comfort Zone ceilings like the one above are made with special interlocking panels for a weather-tight finish.
Don't Settle for Subpar Storage
If you're tired of dealing with damp, nasty storage sheds — or if you're done with hauling patio furniture into the garage every winter — consider the benefits of a Comfort Zone Underdecking system.
Comfort Zone comes with a Limited Lifetime Warranty and is guaranteed never to rust, providing long-lasting storage solutions that are as attractive as they are functional.
Tri-County has been perfecting the installation process since our founder Rod Manson patented the Comfort Zone system in 2009, ensuring a quick installation that gives you more time to enjoy your backyard this summer.
Get in touch with the team at Tri-County Enterprises to schedule your free estimate. Call (319) 364-2220, or hit the button below.
Is Comfort Zone Right for You?