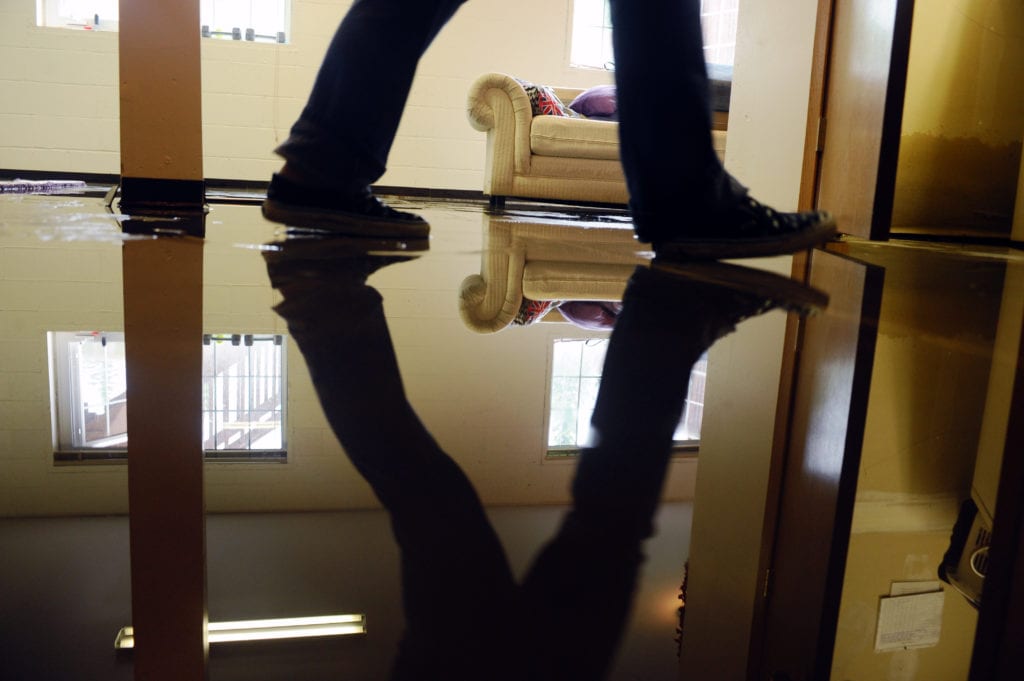 Water damage can happen to your home at any time, but with more rain and snow melt, spring sees the most cases of flooded basements and water damage. Most cases can be prevented if you know where to look and what elements of your home need regular maintenance. Below are a few tips to keep your home safe and dry this spring.
Drain The Water Away
So many of the water damage and flooded basements we see in the spring can be prevented with an updated gutter system or proper gutter maintenance in the fall, before the first freeze and snowfall hits. The purpose of a gutter system is to take water and debris and move it away from your home, so it doesn't pool near your home, where it can flood your basement.
Check your gutters first to make sure they aren't clogged. If your gutters are full of debris, clean them and consider gutter guards that will help prevent debris from damming in your gutters. If there is no debris in your gutters, but water is still pooling in certain spots in your gutter system, your gutters may not be pitched correctly. Gutters should have a slight decline that drains water towards the downspout. Leaks or holes in your gutters can also render your gutters less-than-effective by allowing water to run down the side of your house and into your walls or basement. Seamless gutters are a great way to avoid leaks and holes and keep your gutters working properly for many years. Finally, make sure your downspouts are funneling water at least five feet from your home. If your downspout isn't carrying water far enough from the base of your home, it may actually be moving the water almost directly into your basement.
A Strong Line of Defense – Your Roof
We often think of water settling in the basement when we think of water damage, but your roof is your home's first line of defense. Winter can take a toll on your roof with snow and ice collecting and the repetitive cycle of melting and freezing. The first step is to inspect your roof for damaged and aging shingles. If shingles are damaged, there is a good chance water is able to get into your roof. The second thing to look for is water puddling in specific places or wet spots when the rest of the roof looks dry. This is an indicator that your roof isn't pitched correctly and isn't funneling water off your roof. Depending on how long this has been happening there could be significant water damage below the surface of your roof leading to water settling in your attic, walls or basement.
Window and Door Wear
Your windows and doors are built to let in the right things, like a pleasant breeze and sunshine, and keep out the wrong things, like water and extreme temperatures. When your windows and doors become worn out, you can end up with water damage inside your walls and with heating and cooling bills that are higher than normal. The first place to look for damage is at the corners or your windows and doors. Peeling paint, discoloration, or swollen frames most likely mean that water is getting into the cracks between the frame and your walls. These issues are even more pervasive with sub-ground level basement windows, as water can collect in window wells and lead to water in your basement if your windows are worn. If the corners of your windows and doors look good, you will want to close them completely and check for a tight seal. Windows and doors frames can warp slightly over time and prevent them from doing their job.
Next Steps
Following some of these tips can save your home from water damage and give your sump pump a well needed break. Spotting some of these warning signs early can help prevent flooded basements and other spring water damage. If you're not sure if water is getting into your home, don't go it alone, call licensed professionals that will get the job done right, the first time.
Read More