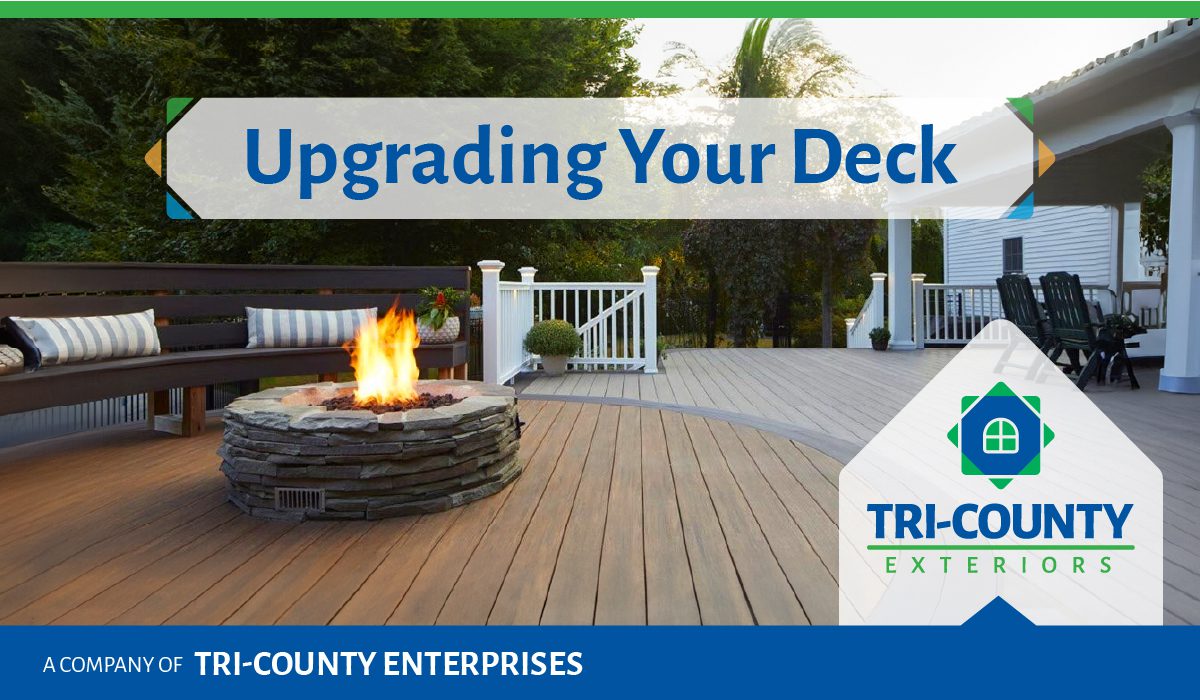 The smell of searing steaks. The sound of chirping birds. The taste of an ice-cold drink after a long day.
Your deck is your outdoor oasis, so you owe it to yourself to have the accessories that take it to the next level—enhancing ambiance, adding character, and increasing the value of your space.
There are several options when it comes to deck accessories, including:
• Lighting
• Railings
• Fire Features
• Greenery
Read on for more details about each of these features and see how they can transform your deck.
Shining Brightly
Stair lights. String lights. Railing lights. When it comes to illuminating your deck, the possibilities are as endless as your imagination.
Some of the most popular built-in lighting options are post-cap lights—which sit on top of the railing posts—and stair lights. It's up to you whether you want a light on every post or just want them by the stairs or near areas where you could need light, like the hot tub area or the outdoor kitchen. There are also plenty of solar-powered cap lights which don't require wiring.
Stair lights are often built into the riser (the front part) of each stair. But they can also be built into the bottom of your stair railings or just about anywhere else you can imagine.
You don't need built-in lights to make your deck shine after dark. One popular lighting trend is the use of large string lights with Edison bulbs. Usually, one string is enough to light up a medium-sized deck. For individual lights, many homeowners select solar-powered lights so as not to have to run an extension cord or wiring to each. If you have a pergola or somewhere else to hang lights, there are solar-powered lantern lights that add both light and ambiance.
Nailing the Railing
Railings tend to be the most visually prominent aspect of your deck. A standout railing makes a strong first impression.
Simply put, people are really into railings, and there are several options to consider:
Wood
Deck railings are traditionally made out of the same wood that was used for the decking boards. Wood railings tend to have a wider profile and don't stand out as much since the railings look exactly like the rest of the deck. Wood railings will require the same maintenance as a wood deck, but the materials will have less upfront cost than other types of railings. One reason people avoid wood railings is because of the splinters and other hazards that attach themselves to organic materials.
PVC
PVC railings can come in a variety of colors and tend to have a larger profile similar to wood railings. Unlike wood, PVC railings won't rot and will last much longer. PVC railings also tend to have a cleaner look than wood—especially in white. Because of the variety of color options, PVC railings can complement your home's color palette.
Aluminum
Aluminum railings come in a variety of colors and won't rot or rust. Aluminum is one of the most durable railing materials and, like PVC or composite, will never need to be painted or sealed. Aluminum railings are great for a slim, chic look that opens your deck to its surroundings. Aluminum railings also allow for a variety of infill options—from standard aluminum balusters to wire to glass.
Cable
Cable railings are arguably the hottest trend in deck construction, and it's easy to see why. Sleek, durable, and modern, cable railings provide a unique look without any maintenance. While cable railings involve a higher upfront cost than other options, the investment to the overall look of your deck is worth it.
Feeling the Fire
When it's time to bring the heat, you don't want a wood-burning fire pit on your deck and close to your home. Enter gas fire pits. They don't have sparks or flaming logs that could roll out, making them ideal for decks. Many of the gas fire pits also look like a coffee table centerpiece that can be used as a table when not lit, adding more versatility than a traditional wood-burning fire pit.
Green is Good
You can incorporate your garden into your deck to create a natural look and feel. From hanging plants and greenery walls to large built-in flower boxes, we can create a beautiful green space you'll never want to leave!
Thinking About Upgrading Your Deck?
You don't have to make all of these material and design decisions on your own—and you don't need to spend endless hours online doing research. Just contact Tri-County and we can come out and discuss the process and your specific vision; we love dreaming up new ideas!
Once planning is done, you can sit back and relax knowing that we'll take care of materials, building permits, installation, clean up, and anything else that's needed. Plus, you'll get the quality of customer service and workmanship that people have come to expect from Tri-County.
If you're ready to start thinking about an upgraded deck, give Tri-County a call or reach out online!