Tri-County Enterprises has been installing quality seamless gutters since 1997
We use the thickest materials available for our gutter systems and offer a lifetime warranty.
The Benefits of Seamless Aluminum Gutters
Aluminum seamless gutter systems are a beautiful, worthwhile investment for residential homes and commercial businesses alike.  They are maintenance-free and are the most attractive option available on the market.
Seamless gutters are a superior product at an extremely reasonable price. The virtual absence of seams (except on corners) prevents the accelerated deterioration and weak points present in other gutter systems. Seamless gutters are custom-made for the building they are installed on, providing a perfect, streamlined fit.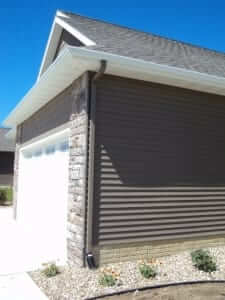 What we use:
Tri-County Enterprises uses the thickest aluminum available (0.32 gauge) for durability, with a baked on enamel finish that is backed by a lifetime warranty. Hidden hangers and handmade corners are used for added strength and a simple, elegant appearance.
K-Style seamless gutters are available in a variety of custom colors. It is easy to match your siding, soffit or fascia to give your home or business the best look.
Gutter sizes available – 5" or 6"
Downspout sizes available – 3", 4", or 5"; custom open faced for commercial projects
Note: we also have half round gutter systems (not seamless).
Complimentary Estimate
To help you make the best choice for your home or business, we offer a complimentary estimate for gutter installation.  During this complimentary estimate, you will receive precise measurements and view samples of materials and colors choices.
Additional Features
As with many home projects, gutter systems can be built with many options. If you are looking for additional features to add to your gutter system, our team can also recommend:
Rain barrels to attach to your gutter system for water collection
Rain Chains – for an old school look
Flip up Brackets & Tile Adapters – to help make your lawn care easier