With minimal maintenance, a properly installed asphalt shingle roof can last about 20 years. This is just one reason that asphalt shingle roofs have been the industry standard for residential homes for decades. While all asphalt shingles are made using three main elements (a base pad, asphalt coating, and crushed stone/mineral granules), there are still a lot of choices to make when choosing an asphalt shingle roof.
Let's Start With the Basics:
An asphalt shingle roof is what you are most likely to see on residential homes in the area. The shingles are called asphalt shingles because they are coated in asphalt to make them resistant to moisture. The base material is often a pad of organic fiber or fiberglass, saturated and/or coated in asphalt, and then coated with crushed stone or mineral granules. These granules protect the other elements of the shingle from the sun, give your roof its color, and make the shingles tougher and longer-lasting. One reason asphalt shingles are still so popular is because the shape, size and color all come in a wide variety. The other main variable with asphalt shingle roofs is the quality of the materials being used to create the shingles.
Varieties of Asphalt Shingles: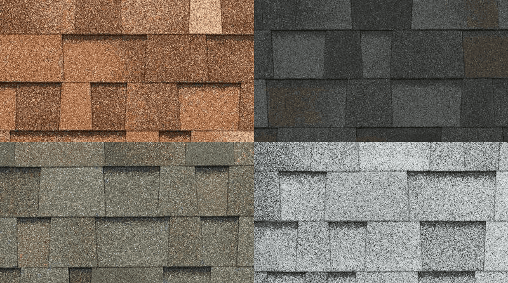 Most of the asphalt shingles we install on residential roofs are "architectural shingles" (or "dimensional shingles"). These shingles are different from the more basic 3-tab or strip shingles because they use multiple layers of asphalt to give the shingle a more "dimensional" look. The color variations from the granules add to this look and give even more depth of perspective.
While the main components of asphalt shingles are fairly similar across the board, technology has allowed manufacturers to create shingles for specific uses and environments. For most of our asphalt roofing jobs in Iowa, we use Malarkey Legacy or Vista shingles, which are both architectural shingles and reinforced with NEX® polymer, a modified asphalt, which adds granule adhesion and retention, giving the shingles more impact resistance against severe weather. The NEX® polymer also allows the shingles to flex, even when the temperatures drop to zero degrees. This flexibility means that instead of cracking and breaking, Malarkey shingles flex, even in cold temperatures, to provide a longer life for your roof.
How Malarkey's Asphalt Polymer is Made:
Asphalt Shingle Quick Facts:
Pros:
One of the most economical ways to replace or repair your roof.
For the price, asphalt shingles provide a long lifespan (about 20 years).
Asphalt shingles tend to be easier to install. We regularly are able to finish an asphalt shingle roof in a single day. This is a huge advantage for homeowners who want to avoid coming home to a construction site for a week or more.
Offers an enormous variety of styles and colors. This comes in handy when homeowners are going for a specific look or are searching for a roof that compliments their home's siding.
Provides protection against the elements, including UV rays, heat, cold, water and ice.
Wind resistant. The Malarkey shingles that we use the most come with a 110-mph Limited Wind Warranty and are eligible for 130-mph Wind Warranty when additional standards are met.
Asphalt shingles are naturally fire resistant.
Repairs are often easier with an asphalt shingle roof because small sections can be replaced without having to repair a major portion of the roof.
Cons:
While maintenance is limited, asphalt shingle roofs do require periodic inspections and occasional maintenance.
While the Malarkey shingle lines are great for Iowa's harsh weather conditions (they provide class 3 and 4 impact resistance), all roofing material is going to need some repair if the hail is big enough. With age, asphalt shingles can become more susceptible to damage from things like hailstorms.
Because they overlap to provide extra protection, it is possible for extremely strong winds to get under the shingles. However, the asphalt shingles we use are rated to last through 110-mph winds, which outside of extreme storms and tornadoes, should stay put in most Iowa weather.
Want to dive into more of the technical aspects of asphalt shingle installation? Check out this video with our President, Rod, doing the explaining: 
More Roofing Articles: